Vegan is the New Leather: The Hottest Styles With None of the Guilt

Being an eco-Friendly ethical consumer shouldn't mean sacrificing your aesthetic.
Don't worry, we've got your back... or your legs.
Eco-friendly fashion has been garnering quite a bit of buzz over the web these days. Newly minted celebrity designers are advocating for a kinder, gentler way of manufacturing high-end pieces, so the impact to mother nature and its inhabitants don't have to suffer for style. Rooney Mara's ambitious, debut vegan clothing line was conceptualized to accommodate the ethically fashion conscious. Ready-to-wear separates made with vegan leather has become the "it" fabric of choice for today's generation.

Vegan leather, also known as faux leather or pleather, is a "cruelty-free" polyurethane known for its high luster and shine. But, unlike real leather, animal skins are not used in manufacturing making them PETA friendly. So, if you're like me, that's reason enough to go faux. With vegan leather, not only do you get the look and feel of real leather, you can sleep easier at night knowing you saved a horse to ride a... umm... yeah... well, you get the point.

Vegan leather is also considerably more affordable than its genuine counterpart. Real designer leather leggings typically sell north of $600, so you can sit comfortably knowing you're on-trend and within budget.

The History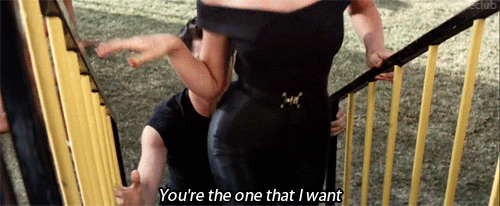 We're all familiar with the high-waisted, skin-tight black leggings Olivia Newton John made famous as Sandy in the 1970's movie musical Grease.

FUN FACT: Olivia Newton John's iconic leggings were crafted out of 1950s vintage satin.

Modern variations of the iconic black leggings have been worn by many celebrity style mavens; from Victoria Beckham to Cara Delevingne, proving that it doesn't matter if you're 20, 40 or 60... Nearly every girl has at some point; whether she admits it or not, (and I do!), imagined herself dressed in THAT outfit romping around a summer carnival with the person of her dreams. While the odds of that cinematic fantasy playing out in real life are incredibly slim - acquiring the sleek look, or rather part of it, isn't.

MeMoi has several jaw-dropping options from their top-selling vegan leather leggings collection to help you achieve this super-sexy leather look.

First up. A classic "Sandy" style.

MeMoi's Fever Red Faux / Vegan Leather Leggings
MeMoi's Fever Pleather Leggings are red hot, hence the name, and they live up to their namesake in more ways than one. For starters, these vegan leather leggings feel like butter on your legs, so they bring a lot of comfortability to the table. The fabric is lightweight and offers a good amount of stretch making them an edgy alternative to your everyday favorite. And lastly, the leggings look GREAT with just about anything in your closet.
Shop The Look: Fever Red Faux / Vegan Leather Leggings - $10
MeMoi's Moto Pleather Accent Shaping Legging
MeMoi's Moto Pleather Leggings command serious attention. Eye-popping mixed fabric detailing adds a futuristic element to these uber-sleek faux leggings; taking you straight from 1970 to 2070. Throw on a classic white t-shirt and a varsity jacket and you're ready to speed away in your throwback Thunderbird convertible; or slip on a novelty tee and a pair of chucks to add a fun, playful side to these sexy vegan leathers leggings. With the MeMoi vegan leggings collection the sky's the limit.
Shop The Look: Moto Pleather Accent Shaping Legging - $14
Now that we've done some legwork... I could really go for a milkshake at the Frosty Palace in honor of National Ice Cream Day!

And while I'm still feeling all vegan over here... I want to share this incredibly easy and seriously yummy vegan mocha milkshake recipe with you.

VEGAN MOCHA MILKSHAKE
Amazing 3-ingredient coconut mocha shake. Made with vanilla bean coconut ice cream, cocoa powder, and strong brewed coffee. Creamy, caffeinated and perfectly sweet.

Ingredients:

• 2 cups (270 g) Vanilla Bean Coconut Ice Cream
• 1-2 Tbsp (6-12 g) unsweetened cocoa or cacao powder
• 1/2 - 3/4 cup (120-180 ml) brewed coffee, chilled (medium to bold roast is best)
• optional: 2-4 Tbsp (30-60 ml) unsweetened almond or coconut milk
• optional: Vegan Magic Shell and/or Coconut Whipped Cream for topping

Instructions:

1) Add ice cream, cocoa powder (starting with 1 Tbsp), and coffee (starting with 1/2 cup) to a blender and blend until creamy and smooth. Add more coffee or almond milk (optional) if it has trouble blending.

2) Taste and adjust ingredients as needed, adding more cocoa powder for more chocolate flavor, coffee for more coffee flavor, or almond milk for creaminess (optional).

3) Divide between 2 serving glasses and top with Coconut Whipped Cream (optional) or Vegan Magic Shell (optional).


One last thing...

If you're looking to step up your ice cream sock game: Check out MeMoi's super cool Sundae crew novelty socks.

Let us know how you rocked the style! Post a photo on Instagram and tag us @MeMoi with the hashtags #MeMoi and #MeMoiLover and we'll feature your awesome new look!

Leave a comment or suggestion below to let us know what you think about this style, or to recommend a style you love or a look we should cover in the future, and make sure to join our mailing list so you don't miss a single styling tip from our MeMoi Fashion Experts!
Fever Red Faux / Vegan Leather Leggings $45
MeMoi Fever Red Faux Leather Leggings are a sexy, classic, chic & eco-friendly style. Shop the MeMoi Women Vegan Faux Leather Leggings collection today | Pair these with your favorite heels and a flowy top for a fun night out, or go for a full leather-on-leather look. MeMoi Vegan Leather Leggings won't be let down.

BUTTON
Moto Pleather Accent Shaping Legging
$58

Our Memoi Moto Pleather Accent Shaping Legging is perfect high-waist legging for the woman who's always on the move. Substantial waistband and curve-enhancing lift promise a superior fit, while the leather look details create a high-fashion adaptable piece. Wear with high boots, long dresses, or pumps and pretty blouses to expose different parts of the design.
BUTTON
Sundae Crew Novelty Socks
$6

Sundae-themed crew socks feature heaping scoops of vanilla, chocolate and strawberry goodness, topped with sprinkles, maraschino cherries and indulgent chocolate syrup. Bamboo blend fibers get softer over time, with just enough stretch to keep you comfortable around the clock. Whether you prefer cup or cone, you're in for a treat.
BUTTON